If you have already successfully installed the Reset Countdown & Reset Countdown Admin Modules, you can setup the Joomla! Modules as usual.
Reset Countdown Settings for the Frontend Module
navigate to (Extensions → Modules) in your Joomla! Administration.


here you can find last installed Reset Countdown Module with a hidden state.




click on the Module Title to open it.


You can show or hide the Title.

You have to set the Module to a real Template Module Position independet to real position.
Of course the Status have to be "Published".






On the Modules left side you can find several options:



Load jQuery
Just deactivate loading jQuery if you run with the Template or another Extension the jQuery library to avoid conflicts.
Look at this function at first, if unknown errrors happens!


set the Position to top or bottom.


background- and text-colors you can set in HTML.


it´s also possible to enter an individual description.


currently there are 2 countdowns available, countdown to every full hour or full day.


for further functionality or options, just write a message!





In Menu Assignment choose where the Module should be available for example On all Sites!


Save & Close the Module if you´ve finished your settings and try it.
Reset Countdown settings for the Backend Module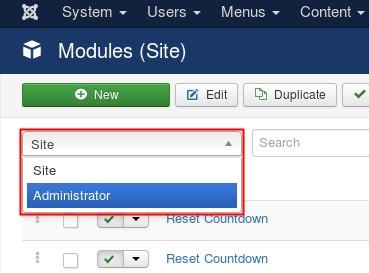 Same available options for the Reset Countdown Admin Module.
Just switch the Joomla! Module View to Administrator!