With a simple trick you can offer your Packages & Products in different languages.
Unfortunately it´s not possible to provide by Digistore24 a Product in several languages.
But you can still offer defferent Products in several languages by simply copying the existing Product and translating the content.
Copy an existing Product in Digistore24

In your Digistore24 Account go to Account → Produkts and click on the Copy Icon!
You can handle the new Product like a own Product, just select inside the Language: English and and translate the contents.

Theoretically and currently also technically, the Product name can be identical. Thus an IPN Call would work correctly, but Digistore Connect could not know if the client bought a German or English Product. On a later "My packages" site it would be not possible to get the correct Product- and/or Update-URL to take place.
More beautiful would be a clear separation and you could easily ensure this by using for example a English Product (EN). For example, the English Product on this sites would be Digistore Connect (EN) for the Digistore Connect Product.
At this point, remember to include this new product in the IPN call!
Create an English Child Package in Digistore Conenct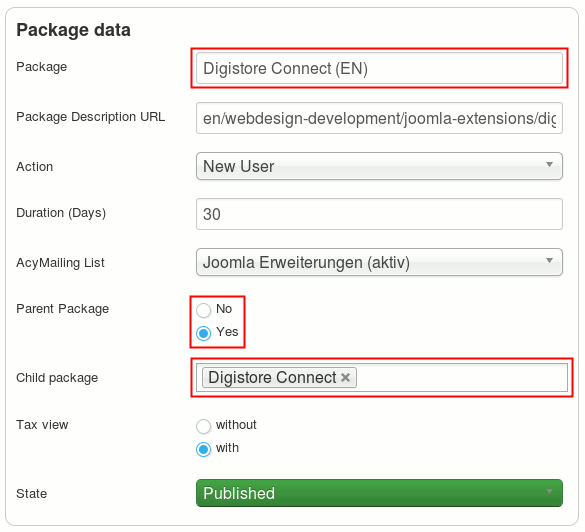 For an IPN Call to start with the new Product Name, you need a Package of the same name.
You can use the new copy function and simply copy the existing Package. You can then customize the name and, if necessary, the Package Description URL.
The most important step here is the selection of the Parent Package. This ensures that buyers of the English Package will also have access to the Digistore Connect Access Level, thereby accessing the download in this case.
You should of course check these combinations for the correct function!